WELCOME TO THE AGM_CUSTOM ONLINE STORE!!
CLICK ON THE PAYPAL LINK TO SEND PAYMENT
TO tonyandofelia@yahoo.com
PLEASE EMAIL ME FOR SHIPPING PRICES FOR WORLD WIDE ORDERS
-NOTE-
I HAVE RECENTLY GOTTEN TWO NEGATIVE FEEDBACKS ON IMPROPER PAKAGE'ING ON EBAY, I HAD TO GO OUT OF TOWN FOR A FAMILY EMERGENCY AND HAD TO DEPEND ON A FRIEND TO PACKAGE AND SEND OFF THE TWO ITEMS IN QUESTION,I REGRET THIS HAPPENING AND I ASSURE ALL ITEMS PURCHASED FROM ME IN THE FUTURE WILL BE PACKAGED AND SENT OFF FROM ME PERSONALLY.
ALL ITEMS WILL BE CAREFULLY PACKAGED IN BUBBLE WRAP
ONCE ITEM IS SHIPPED YOU WILL BE SENT A TRACKING NUMBER BY EMAIL, AND DAY OF DELIVERY

THE RED HULK (item # a2)
( $37.00 )( SHIPPING IS FREE)
THE RED HULK custom action figure is painted in detailed and sealed to keep paint from chipping,the head does not move due to the exageration of the head. the arms,hands,legs,waist,knees,feet are fully posable,custom is meant for display only,heavy turning of arms and legs may cause paint to chip. ideal for any marvel custom collection !!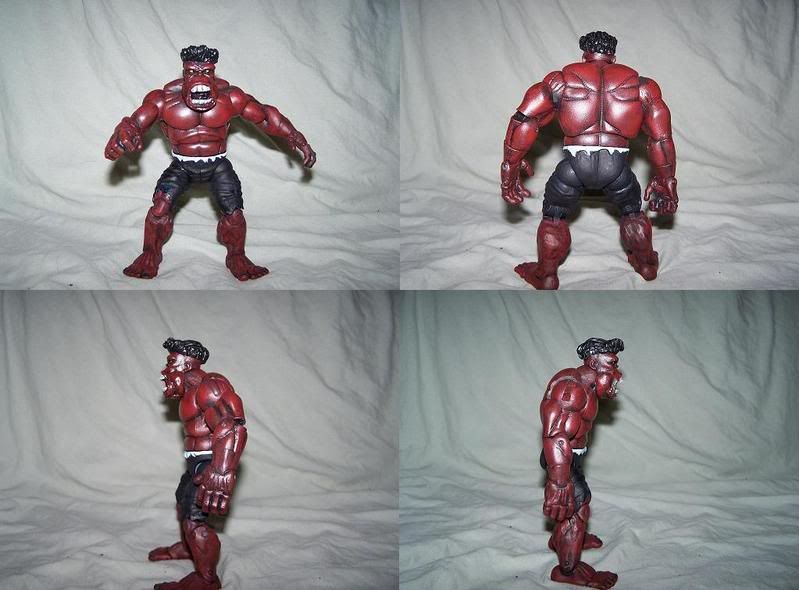 the incredible hulk customs are my favorite customs to make so i take great pride in detail painting and sculpting.
take note of the detail paint and sculpt job done on his eye's and inside of this mouth
RED HULK IS MADE SCALE TO MARVEL LEGENDS.
the green hulk is not included
-just a note-
at this moment i am taking commissioned jobs,so if you have a custom you would like made special for you ,just email me.